Ringing Courses and Conferences
Ringing with Poles: Barberspan Bird Ringing Conference

Jointly organised by Bird Migration Research Station, University of Gdansk, Poland and SAFRING, ADU, UCT

Venue: Barberspan, North West Province

Click here to see the locality on Google Maps.

Dates: 28 Nov-2 Dec 2013
Preliminary Programme
Includes ringing sessions, guest speakers and workshops!
Download pdf of preliminary programme.
Introduction
In years gone by, Barberspan was the site of South Africa's only permanent ringing station. This large saline waterbody is fed by the Harts River, has no outlet (hence the salinity) and only overflows into neighbouring Leeupan in extreme flood years. It acts as an oasis in the otherwise arid area of the Northwest Province and as such attracts large numbers and variety of ducks, herons, waders, warblers and other water and water-associated birds. In order to sustain the renaissance of Barberspan as an ornithological research station, a meeting is planned for all ringers and any other parties with an interest in ringing. Although this will not be primarily a training workshop, there will be ample opportunity for training and for interested parties to see ringing in action. Training in handling of species not commonly trapped by mistnet in SA, namely ducks and waders, will take place under the guidance of both local and international experts in their fields. The reserve and surrounds offer various habitats for ringing: arid scrub, grasslands, reedbeds, shoreline, gardens and abandoned gardens. Walk-in duck traps will be pre-baited to ensure catches. An interesting variety of birds can thus be seen and ringed. Ringing of garden birds in the Barberspan Hotel area is also possible. SABAP2 atlasing sessions and a workshop on the ADU's Virtual Museums are also on offer.
The reserve manager Mr Sampie van der Merwe can be contacted on telephone 0878030311 or 0824439777, e-mail sampievm [at] lantic.net for any further information regarding the bird sanctuary.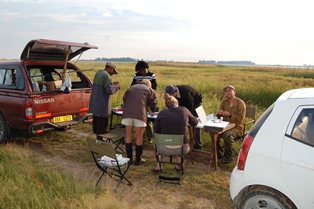 Birding on foot is possible as there is no dangerous game (other than ostriches!) within the property: the sanctuary is dedicated to bird conservation, so there are a few antelopes and zebra, which keep their distance from humans. There are also several bird hides. Barberspan is a popular angling venue. For those of you who have never seen a springhare, porcupine or aardvark, this is the opportunity. There will be ample time for mistnetting and other trapping and ringing during the conference weekend. There is an ongoing project at Barberspan to restore the ringing station to its former glory and ringing takes place at the site on a regular basis, so there is a distinct possibility of obtaining retraps. Field rangers from NW Parks are being trained as ringers, and NW Parks is proud of the newly qualified ringers in its employ. The ADU and the Polish Bird Migration Research Station of the University of Gdansk and Barberspan staff collaborate (click here for details of collaboration) on research projects, and the Fitz is also involved in research projects at this internationally important site. As part of this collaboration, some presentations will feature standardisation of methods and calibration to ensure that ringing results can be used in comparative studies. A series of invited keynote speakers will cover topics of general interest. There will be several attractive spot prizes for ringers. The conference will attract top bird ringers, birders, biologists, research ornithologists as well as conservation managers, and is expected to host at least 50 delegates.
This is a request for submissions for both oral and poster presentations, dealing with all aspects of ringing, including descriptions of projects, results and techniques. Persons with requests to hear talks on specific subjects should contact the Local Organizing Committee at the e-mail address below with their proposals.
Details of the programme will be updated on this website above as the programme develops.
Zephné Bernitz, Local Organizing Committee (see below for full details of Organising Committee).
bernitz [at] iafrica.com
Accommodation
Barberspan housing facilities are currently being used to capacity by the NW parks Working For Fire Team and the overseas researchers. There is camping and alternative accommodation has been negotiated at preferential rates.
Camping -there is unlimited camping with shade, 220v power points and great ablutions with hot and cold water. Firewood is available at no extra cost. Rates are R30 per person per night for camping.
Barberspan Hotel Chalets - R150 per person per night. Single occupation of a twin room is will only be possible by paying for both beds in a room. An en suite room with double bed will cost R320 per room per night. Chalets sleep 4-6 people and will be shared. Honeymoon suite with Jacuzzi - R360 per night.
Barberspan Hotel Guesthouse - the guesthouse has been prebooked in its entirety. All accommodation will be in shared rooms. Rates per bed will be R150 pppn in a shared twin room with shared bathroom facilities, or R320 per room per night in an en suite room with a double bed.
Self-catering is possible in all accommodation . The guesthouse has a common kitchen where guests can prepare their meals. All chalets have a kitchen corner with crockery, cutlery, microwave, electric kettle, plus braai stands. If possible registrants should bring with portable fridges to ensure sufficient place for perishables.
When registering, please indicate with whom you would prefer to share.
Conference attendees are welcome to book additional days before and after the official conference dates should they so wish, as Dr Magda Remisiewicz's group of Polish reseachers will be operating the site from Nov 13th to Dec 3th. Please ensure that you specify expected dates of arrival and departure when registering.
Conference venue
The rustic conference venue is within walking distance of the campsite, and is approximately 5 km away from the Barberspan Hotel. Formal presentations will take place during the hot hours of Friday 29th, Saturday 30th and Sunday 1st.
Registration
Register online here
Fees are as follows:
Ringers registration R450
Accompanying persons R400
Students (proof required) R350
Please enquire if you are considering visiting for one day only.
Payment details
Bank: FNB
Branch:270150
Account Name: Safring Anniversary Conference
Account Number: 62427185576
Ref: surname and initials
Email proof of payment to bernitz [at] iafrica.com
Meals
All teas are included in the registration fee. The only meal supplied will be Dinner on Saturday night. All registrants must supply their own chairs, cutlery and crockery for this meal which will be a communal braai in the boma at the campsite. Vegetarians will be catered for, but please ensure that any special dietary requirements are specified on the registration form. It is essential that final numbers of persons attending be confirmed and paid for by November 20th at the latest to facilitate catering. Meals (breakfast, lunch, lunch packs, dinner and pub meals) are available at the Barberspan Hotel. All meals must be pre-booked directly with the Barberspan Hotel. Please bring ample liquid refreshments as the nearest shops are 30km away. There is a bar at the Barberspan Hotel. Tap water at Barberspan is potable: it is safe to drink although it is a little saline and contains high mineral levels (iron). Fussy drinkers should bring bottled water.
Sanctuary Admission Fees
Admission fees to Barberspan Bird Sanctaury will be covered by your registration fees. This applies especially to day visitors. Access to the sanctuary will be possible 24 hours a day though a closed but not locked gate. Direct access from the Barberspan Hotel to the nearby shoreline will be possible for the duration of the conference through 2 locked gates for which Sampie will supply keys.
Ringing Permits
There will be a blanket ringing permit for all persons with valid SAFRING authority cards for ringing within the sanctuary and on the Hotel grounds. Any ringers operating on other private property will require valid North West Province ringing permits. These permits should be applied for well in advance. Please contact Zephné on bernitz@iafrica.com for further information regarding permits.
Climate
Barberspan is in the summer rainfall area of South Africa. During November /December daytime temperatures will be high (above 25º C) with some thunderstorm activity possible in the afternoons. Nights will be cooler. Due to the exposed topography of the land, wind is often a problem. This is not a malarial area.
Footnote
The conference organizers look forward to welcoming you to the Ringing with Poles renaissance event at this once proud ringing station situated on an inland saline waterbody. They will do their best to ensure your visit and experiences will be ones to remember.
Organising Committee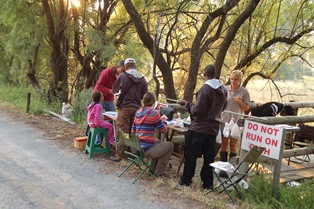 Dr hab. Magdalena Remisiewicz (BMRS)
Dr Zephne Bernitz (SAFRING Trust)
Mr Sampie van der Merwe (Barberspan Bird Sanctuary, NW Parks and Tourism Board)
Dr Dieter Oschadleus (SAFRING/ADU)
Prof. Les Underhill (SAFRING/ADU)
Dr Jaroslaw K. Nowakowski (BMRS)
Mr Krzysztof Stepniewski (BMRS)
Prof. Herman Bernitz (SAFRING ringer)
Mr Marc Burman (ADU) – Abstracts
Mr Michael Brooks (ADU) – IT support
Polish organisers (BMRS)
Ms Justyna Szulc
Ms Katarzyna Stepniewska
Ms Aleksandra Niemc
Local organisers (Barberspan Bird Research Team):
Mr Andrew Mvundle
Ms Lebo Moeti
Mr Amos Koloti
Mr David Moruatheko
Mr Joel Avni
Collaboration between BMRS and ADU
The University of Gdansk's Bird Migration Research Station has studied the migration patterns of Palearctic birds since 1961. Many of these birds head for their non-breeding grounds in South Africa, where SAFRING ringers study them. The collaboration between the Polish migration research station and ADU links our knowledge of the two ends of these species' annual migrations. In 1998 SAFRING Coordinator Dieter Oschadleus visited the University of Gdansk and presented data on South African waders at an international workshop on Wood Sandpipers. In 2007-2011 Dr Magda Remisiewicz set up a post-doctoral project at the ADU, focusing on the links between migration and moult in waders and passerines. She used Barberspan Bird Sanctuary as her main research site.
Two research projects between the ADU and the University of Gdansk were conducted under the aegis of a scientific agreement between Poland and South Africa. Polish ornithologists, botanists and limnologists visited the ADU and Barberspan, and South African researchers have visited the Polish ringing stations. Over the course of eight years' research at Barberspan, the Polish and South African teams have trained more than 16 North West Parks staff, and Barberspan is now the only reserve in South Africa with a team of trained bird ringers and research field assistants.
Seven research papers and numerous talks at international conferences have presented the results of this collaboration to an international audience. More papers and talks are in progress and others are planned over the next five years. Barberspan was once an internationally recognised leading ornithological research station and provides excellent conditions for studies on migrants. Ever more ornithologists and other natural historians are now choosing to conduct research programmes at the reserve. ADU and the Polish Bird Migration Research Station team jointly organised the national annual ringers' conferences in 2010 and 2011 at Barberspan. This year the conference returns to the reserve.
Dr Remisiewicz was recently appointed director of the Bird Migration Research Station in Gdansk and plans to strengthen her unit's bonds with the ADU. A new joint research project has been established based on regular passerine and wader ringing at Barberspan. Her unit will also exchange data on Palaearctic migrant species with SAFRING. The ringers' conference in November is the culmination of a three-week intensive ringing expedition by the Polish BMRS team at Barberspan.